Who says your kids have to be left out on all the fun when it comes to drones? Thanks to advancements in technology, there are a lot of innovative and affordable (let's not forget that) drones for kids these days.
This means that you don't have to break the bank if you want to get your children interested in drone technology, or in reality just technology in reality.
Also, using mini-drones or other drones aimed at children and youngsters is a great way of encouraging young ones to take an interest in filming and modern technology in general. You can never just what your kids want to do in the future, so every little bit of experience counts. For sure, if you get them interested in such fun technology as drones and aerial photography, you'll be doing them a favour.
Let's talk about some of the top drones for children and youngsters. Perhaps your child is growing more fascinated by drones every day, and just maybe you are looking for the next perfect birthday present.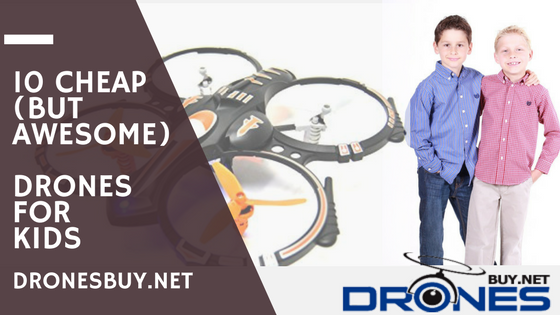 You've definitely made the right choice, as drones are a great gift to give your young ones. You will see them play with it at every opportunity they get. This gives your child plenty hours of fun not just for your kid, but even for you. Mini-drones are ideal for kids, because they are basic, and cover all of the features that a child would find appealing – whilst being affordable. You wouldn't want to get them an expensive drone only to see them the drone crash and burn (tragically for your pocket).
First -a comparison table of kids drones
[wptg_comparison_table id="1″]
We have compiled a list that takes into consideration the price and quality of the drone. You want a drone that is affordable, but you don't want one that works for only a few weeks or can't take a couple of hits (because you know just how kids are). Also, you don't want one that is high quality but too expensive for a child to play with. Take a look at some of the best drones for kids on the market this 2017!
SYMA X11C
If you are looking for a great drone for your kids, then the SYMA is definitely a good option. SYMA have gained a lot of popularity in recent years because of their quality in every piece of drone technology they produce.
It is also one of the best drones that you can get for someone who is a beginner in drones. Their more commercial units, which are the X5 and X8 are very popular on the market, but this edition is one that your kids would appreciate.
It is child friendly drone and it very easy to get started.
This unit comes with its own built in camera of 2MP. The camera is not ultraHD like you would see on modern drones today, but it is definitely something that your kid would appreciate. It saves all files that are recorded on a MicroSD card that is 4GB. The 6 axis stabilization gimbal system creates a stable flight, and your kid can control it from 100 meters away. The battery life can also support up to 7 minutes flight-time, depending on how you use the camera.
[wptg_comparison_table id="2″]
Holy Stone HS170 Predator Mini
This is an emerging drone on the children's market.
It has become a bestseller on Amazon in 2017 because of the sleek design and technology used in creating this drone.
It is simple to use and easy to understand, allowing your child to have the best possible experience. This children's drone comes with a headless security system, that allows people with any level of training to fly the drone seamlessly.
This is a useful feature so that your kid doesn't crash the drone the first few times of using it and cause damage to it.
It makes use of a 2.4Ghz system that has minimal interference. The 6 axis gyro system of this drone provides very stable flight, and would provide very still images. It is also windproof, and can be controlled from up to 50 meters away.
This is one of the great drones for children on the market with a flight time of 8 minutes. It takes about an hour to get fully charged.
[wptg_comparison_table id="3″]
UFO 3000 LED Drone
This is another drone that has developed a lot of relevance on the market recently.
You shouldn't be surprised to see this drone dominate your searches for kid's drones on amazon.
It comes with an Ultra bright LED that looks great in the daytime and even better at night. This is the ultimate play toy drone for your kids when it gets dark.
Apart from just the LED and the appearance, it also comes with a bag of tricks like the 360 spin at just the touch of a button.
This drone was designed to give kids the ultimate experience. It comes with an ultra-fast feature. This allows the drone to zip through the sky at unbelievable speeds (at least for such a small drone).
It is also a drone that appeals to both boys and girls because of its unisex colour scheme. It is amazing for all beginners and children that are just beginning the use of drones.
It can last for 9 minutes in flight, and comes with a bonus battery that would double the playtime.
[wptg_comparison_table id="4″]
Cheerson CX 10C

Cheerson is another company that has a good reputation when it comes to drone production. You may have heard about their more popular drones like the CX-20, but this is a lot more affordable and appealing to kids than that specific drone edition.
Its design features a simple and compact build that hinges on durability.
Kids are naturally playful, so the design brings into consideration extra strength. This quadcopter comes at an amazing price that is suitable as a children's toy drone.
The camera is 0.3MP, but don't be deceived by this, as the camera delivers surprisingly great quality.
The camera quality is greater than a lot of $50 drones, so you shouldn't be alarmed just yet.
The control distance is 20 meters, but it is very handy and gives you a very smooth flight.
All of the recorded files are saved on a MicroSD card, which can be connected to your computer to take out the files. If you are looking for a low budget and handy drone for your kids, then this is definitely one to consider.
[wptg_comparison_table id="5″]
RC Stunt Drone Quadcopter
If the damage or durability is your major concern when getting a drone for your kids, then this is one of the best units for you to consider.
Children are naturally a tad careless, so you don't want to buy a drone that is too delicate, as it my get damaged within just a few days.
This particular RC drone is crash proof, ensuring that you don't have to worry about it getting damaged.
It comes with a remote controller and 2 batteries so your kids can charge one while the drone is flying with another.
The blades are also replaceable.
The control distance of this drone is 50 meters, which would give your kids ample room to play around with the drone.
It is easy to use for every beginner, and the bright orange design is one that would see your kid's faces filled with awe.
It comes with a 6 axis stabilization system for a safe flight, and the camera is very clear. It can also be used for indoor flying.
It is also necessary to consider the age of your kids when buying a drone. Not all drones are applicable for all children. So let's take a look at some drones by age group…
[wptg_comparison_table id="6″]
SYMA X1 4 Channel Drone (Below 10 years)
If your kid is below the age of 10, you probably need a drone that is less expensive, and easy to operate.
This makes the SYMA X1 the basic drone for your kids within that age group.
It comes with a controller that incorporates a basic 3 way movement system. Up or down, left or right and forward or backward.
This easy control system enables your kids who are under the age of 10 to have a fun time while playing with the drone.
There are two different fly modes, including an indoor flight mode and an outdoor mode. It comes with a 360 spin function, which your kids would find very fun to play with. It has a 3 axis stabilization system that makes use of gyro technology in order to give your kids a safe flight.
The camera quality is also quite clear for kids of that age, and the 2.4GHz radio system would stop all forms of interruption.
[wptg_comparison_table id="7″]
National Geographic Quadcopter Drone (10-14 years)
If your kid is between the ages of 10 to 14 years old, then you need a drone that is easy to use, durable and still fun.
It comes with a number of fun, easy to understand features that would see your kid have a great time. This drone is controlled with a remote control that is simplified. It has an auto orientation system, so it would not crash easily just in case your kid is still getting the grips of flying. It allows your child to perform simple functions like take-off, landing, 360 spins and lots more. It also has some speed settings that are built in, which give the drone more manoeuvrability and control. The flight time on this drone is 10 minutes from just a single charge. It also has a standard 6 axis system that enables the drone to remain stable during flight. It comes with a USB charging cable, which means you don't have to go out to buy accessories.
[wptg_comparison_table id="8″]
SYMA X5C New Version (14 and above)
If your kid is above the age of 14, then you need a slightly more advanced drone for them to play with. This is because they would have more control over the drone, and would like the unit to perform a lot more functions. This is where the SYMA X5C comes in. It is designed to look like a professional drone, but comes at an affordable price, and is still very suitable for children. It comes with a li-poly battery that is suitable for flying the unit inside and outside the house. The standard flight time of the unit is 10 minutes, and it can get fully charged in less than an hour. It comes with a 360 degree spin function, and a 2.4GHz control system. It also used the standard 6 axis gyro stabilization technology that would ensure you get a safe flight. The camera is also in HD quality, ensuring that your kids get the best footage. It also comes with a light that allows for night time flying.
Now let's take a look at the most expensive and most affordable kid's drones that you can find anywhere on the market…
[wptg_comparison_table id="9″]
The most expensive on our list is…
HolyStone RC Drone with HD Camera U818A
This is the most expensive drone on the market currently that is still within child friendly parameters. Don't get it wrong, it would have been easy to include a drone that is over $500, but we are still going with the basic kid's parameters which include price, functionality and durability. The drone that ranks the highest based on these parameters for 2017 is the HolyStone U818A. It comes with a HD camera that can capture pristine aerial footage and deliver up to 720HD pictures. It also comes with a headless mode, which allows for an easy flight and better control even when your kid is just getting the grip of the drone. It has the basic 6 axis gyro stabilization technology, which enables for easy handling and can allow your kid to perform 360 degree flips. It is fun and easy to operate because of its quad design. It also comes with a bonus battery, which allows your kids to fly the drone while another battery is still charging.
[wptg_comparison_table id="10″]
Fast Lane Radio Control Nano Drone
If you are looking for a very affordable drone, then this is the most affordable on our list. It comes with a ready pack and a remote control that allows for easy control. This drone is very small in size, but has a lot of power. It is very enjoyable to play with. It is just 2 inches, and it comes with three different flight modes that your kids would absolutely enjoy. You can also adjust the drone according to a particular skill level, which makes it suitable for different age groups. It is also capable of performing 360 flips, and it comes with LED lights for navigation when it is nigh time. The drone can also be stored inside the controller, which is very handy and makes your kid's room tidy. It makes use of a non-interfering radio control system. It can also be charged within minutes, increasing your kid's playtime.
[wptg_comparison_table id="11″]